International initiatives
Bioenergy Association works with specialists around the world and has links to countries where initiatives relevant to Australiasia are being pursued. Listed below are some of those initiatives that are of relevance.
Australia
Bioenergy Australia: Bioenergy Association has a memorandum of Understanding with Bioenergy Association which sets out how we will work together. We promote each other's activities and often have joint working groups, or invitations to attend meetings as part of the other's activities. See more
The Australian Renewable Energy Agency (ARENA): ARENA's purpose is to accelerate Australia's shift to an affordable and reliable renewable energy future. They provide funding to researchers, developers and businesses that have demonstrated the feasibility and potential commercialisation of their project.  See more..>>
Biomass Producer:  Biomass Producer is the place to start your search for information about bioenergy, as it relates to primary industries in Australia - in particular, information about the types of biomass that can be used to create bioenergy. See more here...>>
IEA Bioenergy
IEA Bioenergy's vision is to achieve a substantial bioenergy contribution to future global energy demands by accelerating the production and use of environmentally sound, socially accepted and cost-competitive bioenergy on a sustainable basis, thus providing increased security of supply whilst reducing greenhouse gas emissions from energy use.  See more here ..>>

 
Europe
European Biomass Industry Association (EUBIA): EUBIA's main objective is to support the European biomass industries at all levels, promoting the use of biomass as an energy source, developing innovative bioenergy concepts and fostering international co-operation within the bioenergy field.
International
United States of America
The U.S. Department of Energy has updated its assessment of national biomass resources in the USA and published this in the 2016 billion-ton report: Advancing domestic resources for a thriving bioeconomy (BT16).  See more here..>>
---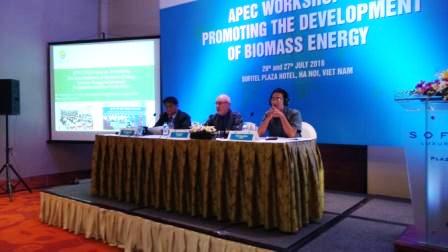 Bioenergy Executive Officer chairing a session at an APEC biomass energy workshop in Vietnam